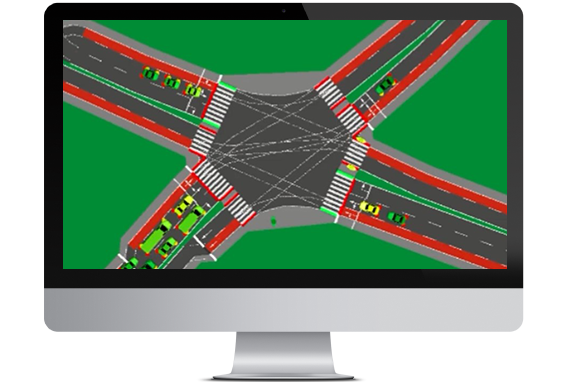 Vivacity Smart Junctions Early Adopter Programme
Be part of the traffic signal control revolution and tackle priority issues including congestion, air quality and road safety.
Be part of the traffic signal control revolution!
Vivacity's award-winning Smart Junctions solution empowers cities to reduce congestion using an intelligent signal control algorithm that is able to adapt quickly to changing demand levels and traffic conditions.
Our Smart Junction solution has already proved to reduce congestion and improve journey time by up to 23% in the real-world.
The

Smart Junctions Early Adopter Programme (EAP)

is an exclusive programme for innovative transport authorities and their partners that want early access and the opportunity to help shape the development of this groundbreaking technology.
Why join the Smart Junctions EAP?

With at least 200% match funding of your investment through our specialist and dedicated expertise and resources, the programme offers:
• Installation of our state-of-the-art sensors and bespoke Vivacity Intelligence Unit, with custom set-up and adaptation by world-leading experts
• Independent validation of our Smart Junctions solution by an industry-leading consultant
• Early access and visibility of new features before they become publicly available

• The opportunity to shape Smart Junctions development through ongoing user research programmes, and to explore new objectives such as:
‣ Optimisation for active travel modes e.g. cyclists and pedestrians
‣ Coordinated control between multiple junctions
‣ Improving air quality for achieving Net Zero targets
‣ Bus prioritisation for ensuring reliable bus journey times
‣ Shaping the data insights offering, to support councils with their reporting needs
• In depth performance insights, fortnightly progress meetings and monthly A/B testing reports during the trial period between the incumbent system and Vivacity's own algorithm
• Access to detailed sensor data via API or Dashboard in 5-minute intervals for Classified Counts, Zonal Occupancy and Zonal Speed per mode, with the additional options of Journey Time, Origin-Destination analysis using ANPR and Turning Counts
Please complete the form to register your interest and we'll be in touch to discuss the programme in more detail.
I'd like more information please
Not ready to come onboard but want to follow the EAP progress?

We understand that your local authority or your clients might not be ready to join us in this project - that's not a problem at all! We would still like to keep you informed about the progress and development of this innovative solution. You can fill in the form and tick 'keep me updated about the EAP progress' box and we will share the latest achievements, technology developments and results achieved by the selected EAP partners.

It will be great to keep in touch!
Want to learn more about Vivacity?
Discover the Power of Computer Vision for
Traffic Monitoring and Signal Control by Vivacity Labs
At Vivacity, our vision is to make cities smarter, safer and more sustainable. Our AI sensors provide insights to local authorities to support strategy planning decisions.
Our solution can gather anonymous, real-time, multimodal traffic data and that is used by controller cabinet to optimise signalling, in an adaptable and efficient way, based on real-life needs.
A selection of our clients and partners:












VIVACITY
Improving traffic insights with Artificial Intelligence. Continuous 24/7 urban classification with complete anonymity