Optimising the Cycling Experience with Computer Vision Monitoring Data
Download our analysis insights report of cycling data in Bristol during 2021 and beyond. Learn about how it helped build a business case to improve cycling levels in the area.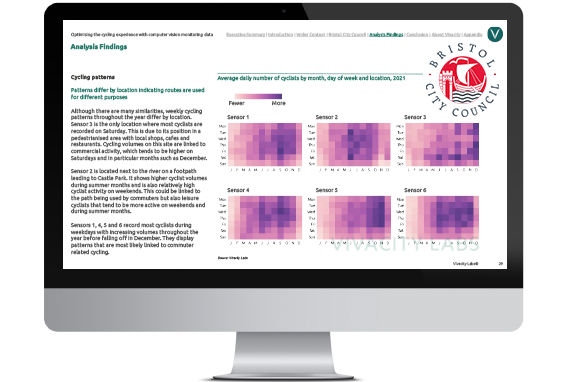 This comprehensive report explores how Bristol City Council is using VivaCity's computer vision data insights to understand cycling trends after implementing road changes to encourage active travel.

In 2020, Bristol City Council closed Bristol Bridge - which serves as a major gateway into the city centre - to general motorised traffic. In January 2021, six VivaCity traffic monitoring sensors were installed to support an in-depth evaluation and help make a business case for further changes to the road layout.
Key findings:
Trends over time: Levels of cycling increased during 2021 in line with easing restrictions and national cycling trends. Compared to motorised traffic, cyclist counts have seen steeper increases but they are also more volatile to seasons and external events.
Flows: Bristol Bridge saw the highest numbers of cyclists serving as a major connector through the city with especially high volumes during afternoon peak hours.
Patterns: Sunday was generally the least busy day and there were clear peak times in the morning (07:00 - 09:00) and afternoon (16:30 - 19:00).
Cycling and weather: Weather data was used to explore the link between changes in temperature on levels of cycling. While generally warmer temperatures were correlated with higher numbers of cyclists, the correlation on weekdays with no Covid-19 restrictions was only weak.
Access to accurate, 24/7 multimodal road use data has helped Bristol City Council to develop a deep understanding of traffic flows, modal distributions and cycling trends such as daily and weekly patterns and where people cycle. These insights are key in supporting initiatives to optimise the cycling experience in the area.

Download the free report to explore the datasets.
Want to learn more about VivaCity?
Discover the Power of Computer Vision for
Traffic Monitoring and Signal Control by VivaCity
At VivaCity, our vision is to make cities smarter, safer and more sustainable. Our AI sensors provide insights to local authorities to support strategy planning decisions.
Our solution can gather anonymous, real-time, multimodal traffic data and that is used by controller cabinet to optimise signalling, in an adaptable and efficient way, based on real-life needs.
A selection of our clients and partners:












VIVACITY
Improving traffic insights with Artificial Intelligence. Continuous 24/7 urban classification with complete anonymity