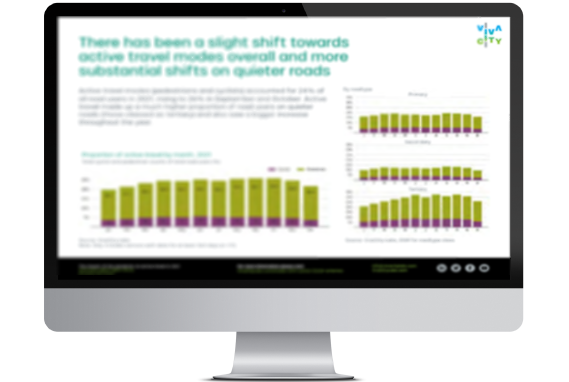 The Impact of the Pandemic on Active Travel in 2021
See the trends in Active Travel in 2021. Discover the power of data and insights for road scheme monitoring. Download our summary report now.
The way we travel has changed rapidly in the past few years, accelerated in part by COVID-19. Traffic statistics have shown a particular uptake in cycling at the start of the pandemic.
With an increasing number of VivaCity traffic sensors being used by Local Authorities across the UK, we have explored trends along active travel corridors in 2021, in particular:
to understand the impact of Covid-19 related events such as easing of restrictions

to identify patterns and changes in cycling behaviour
Some of the insights contained in this summary report include:
The increasing rate of cyclists during certain time periods

Where modal shift happened and to which transport modes

The increase and trends in cycling commuter behaviour
Monitoring Active Travel and Modal Shift requires methodical planning and collection of accurate, consistent data. This report also explains how computer vision combined with powerful AI offers a winning solution to tackle issues around the evaluation and assessment of road schemes.
Download the FREE summary report now!


Want to learn more about VivaCity?
Discover the Power of Computer Vision for
Traffic Monitoring and Signal Control by VivaCity
At VivaCity, our vision is to make cities smarter, safer and more sustainable. Our AI sensors provide insights to local authorities to support strategy planning decisions.
Our solution can gather anonymous, real-time, multimodal traffic data and that is used by controller cabinet to optimise signalling, in an adaptable and efficient way, based on real-life needs.
A selection of our clients and partners:












VIVACITY
Improving traffic insights with Artificial Intelligence. Continuous 24/7 urban classification with complete anonymity