Discover the benefits of VivaCity's Near Miss dataset
Learn how Near Miss data can support your authority achieve their Vision Zero goals - Download the brochure now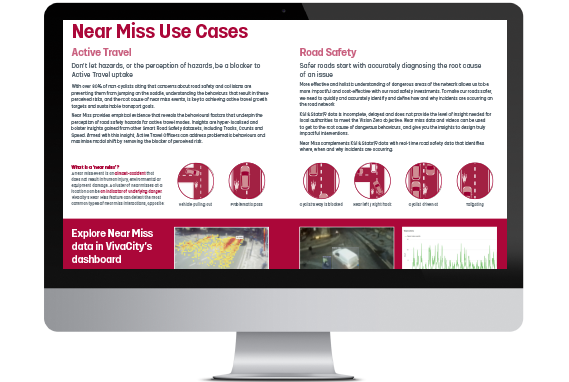 With VivaCity's revolutionary Near Miss data, local authorities can be proactive in their Road Safety and Active Travel schemes, prove intervention results, and justify expenditures.
You can learn more about Near Miss by downloading our handy compact guide that summaries the key benefits of the feature, alongside example datasets and visualisations.

How Near Miss can enhance your initiatives:
| | |
| --- | --- |
| | Identify and analyse hazards and incident hotspots before they occur and quickly create intervention plans |
| | Make data-based decisions and justify expenditure |
| | Perform post-intervention analysis to measure results |
| | Complement KSI & Stats19 data with real-time road safety data |
| | Near miss detection and data for incidents involving Active Travel modes (pedestrians and cyclists Vs. motorised vehicles currently) |
| | Plus much more... |

Take a full tour of Near Miss and discover how it can support your Road Safety and Active Travel objectives.
DOWNLOAD THE BROCHURE NOW!

Send me the Near Miss Feature Brochure
Want to learn more about VivaCity?
Discover the Power of Computer Vision for
Traffic Monitoring and Signal Control by VivaCity
At VivaCity, our vision is to make cities smarter, safer and more sustainable. Our AI sensors provide insights to local authorities to support strategy planning decisions.
Our solution can gather anonymous, real-time, multimodal traffic data that is used by controller cabinet to optimise signalling, in an adaptable and efficient way, based on real-life needs.
A selection of our clients and partners:












SMARTER
SAFER
SUSATAINABLE CITIES