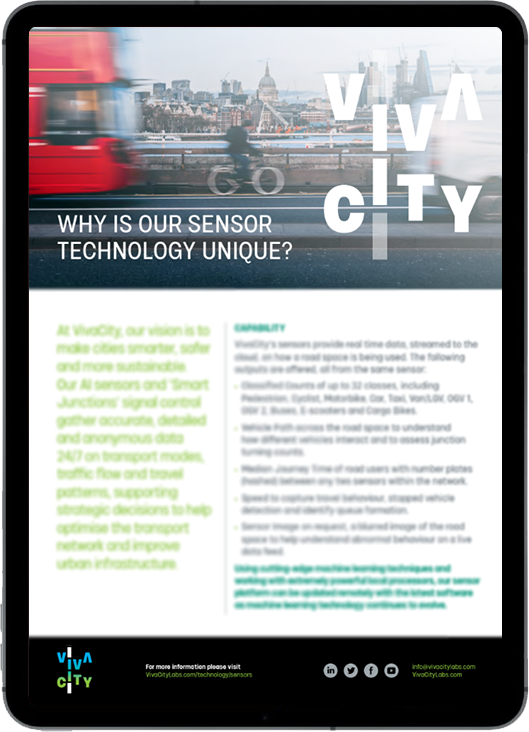 What Makes VivaCity's AI-Powered Computer Vision Sensor Technology Unique?
VivaCity's unique AI-powered computer vision sensors offer superior capabilities for Smart Traffic Monitoring, Smart Road Safety and Smart Signal Control.

What's inside:
The benefits of using computer vision sensors for road scheme planning, monitoring and evaluation, and for optimal flow and road safety

An overview of the features & benefits of computer vision sensors for:




○ Classification and counting of up to 32 classes of road users




○ Vehicle path detection




○ Median Journey Time




○ Speed and Zonal speed

Insight into how traditional traffic management technologies fall short of requirements and how computer vision sensors solve these issues
Be part of the evolution and revolution in traffic and network management. Download our brochure now
Want to learn more about VivaCity?
Discover the Power of Computer Vision for
Traffic Monitoring and Signal Control by VivaCity
At VivaCity, our vision is to make cities smarter, safer and more sustainable. Our AI sensors provide insights to local authorities to support strategy planning decisions.
Our solution can gather anonymous, real-time, multimodal traffic data and that is used by controller cabinet to optimise signalling, in an adaptable and efficient way, based on real-life needs.
A selection of our clients and partners:












VIVACITY
Improving traffic insights with Artificial Intelligence. Continuous 24/7 urban classification with complete anonymity